Changelog for L.C.D.Registrar Module V3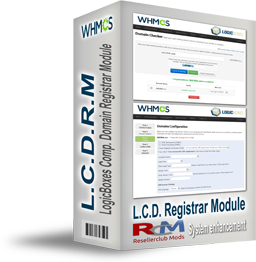 Release Date
Latest Version
09.02.2017
3.12.2
Version 1.0.1
Release Date: 11/07/2013
Version 2.0.1 (Top)
Release Date: 02/08/2013
Release Candidate 1
Added IDN Support for Centralnic group 1 and 2, .com.de, cn.com, .in.net and .name
ETA for Stable Release: 16th August 2013
Version 3.0.1 (Top)
Release Date: 16/08/2013
Final Stable Release
Suspend and Unsuspend Domain Module commands implemented
Extended Domain Status Information Section in Admin Area
Version 3.0.2 (Top)
Release Date: 26/08/2013
Module Bug: Buttons for Cancel Transfer and Resend Transfer Mail were not visible for domains in pending transfer state
API Bug: Cancel Transfer and Resend Transfer Mail are not working until the API issues have been fixed
Module Bug : EPP Code was not sent to the registrar for a Domain Transfer
Version 3.0.3 (Top)
Release Date: 03/09/2013
Bugfix: Domain sync failed when using multiple registrar modules with support for IDN domains
Bugfix: Auto renewals were not executed with the daily cron (Credit Card Charging)
Bugfix: EPP Code for eu domains were not sent to the registrar
Bugfix: Option for "Limit IDN" were not working properly
Register/Transfer domains with Resellers specific contact details for admin/tech/bill (Setup » Generall Settings » Domains) implemented.
By default, Name Servers will not be sent to the registrar for domain transfers. This can be activated explicitly if desired in the Resellerclub Mods Console Addon (v1.1.3)
Module Commands for Cancel Transfer and Resend Transfer Mail now working correctly
New module command implemented to sync a domain manually
Version 3.0.4 (Top)
Release Date: 08/11/2013
Bugfix: Create Customer in reseller account always was created with the language "english" instead with the WHMCS clients profile language
Bugfix: Domainsync fails if a sync cycle does have domains from 2 different logicboxes registrars
Bugfix: Register/Transfer of .ca domains fails due to the shortened state name
Bugfix: Domain Lock for unsupported TLD's has shown a success message instead of a "not supported" error message
Bugfix: Client Area Domain Lock feature disabled for unsupported TLD's (.de, .es, .eu, .nl, .uk, .nz and .web.in)
Bugfix: Running unnecessarily API calls if a previous error has been thrown. It now shows the correct API error.
Implemented Activitylog if a domains nameservers got changed.
Implemented automatic EPP Code generation if the EPP code does not exist or if string is "secret"
Version 3.8.0 (Top)
Release Date: 11/12/2013
Admin area language translations implemented
Client and Admin Area Language setup deprecated. Language translations now served from Resellerclub Mods Console Addon v1.1.4 with auto fallback to english if other language files are missing
Deprecated: Include statement for logicboxes_handling.php in additionaldomainfields.php file
Deprecated: Smarty plugin function.load_logicboxes.php
Deprecated: Action hook file resellerclubmods_logicboxes.php
Templatechanges in configuredomains.tpl file (see upgrade instructions)
Version 3.8.1 (Top)
Release Date: 06/01/2014
Minor Bugfix: Changing manually the tld for a domain name which previously was saved with additionaldomainfields causes register/transfer error
Minor Bugfix: Passing extra info for non resident customers while registering .ES Domains fails with error message "Please specify Type of Identification"
Implemented: Adding a Domain manually with extrainfo filters out now the tube chars "|" with the description automatically
Ready and tested for WHMCS v5.3
Version 3.9.0 (Top)
Release Date: 14/02/2014
Minor Bugfix: additionaldomainfields.php missed dot for 3rd level cn domains
Minor Bugfix: additional domainfields for transfer not displayed in config domain (whmcs v5.3)
Minor Bugfix: Cancel domain transfer did not changed status from pending transfer to cancelled
Minor Bugfix: Duplicated additional domainfields in DB when using more than one registrar module
Minor Bugfix: Unnecessary load of Registrar Hook for each active registrar module
Implemented: Admin and Client Area RAA Verification detailed status message and button for re-send verification email
Implemented: Selling Premium Domains
Implemented: New language translations for admin and client area
Version 3.9.1 (Top)
Release Date: 21/03/2014
Minor Bugfix: Unverified raa message status was not displayed in admin area when due
Minor Bugfix: Pending raa message status disappears in client area when due and unverified
Minor Bugfix: Modify Domain Contact Details in admin area using option "Use Existing Contact" throws error message for missing parameters
Improved: Selling Premium Domain option to expose in custom pages
Implemented: Suggest Domain Name for domainchecker and shopping cart with option to expose in custom pages
Implemented: New language translations for admin and client area
Version 3.9.2 (Top)
Release Date: 25/04/2014
Implemented: Trademark Acceptance support for new gTLD's
Implemented: Support for all four Domain contacts in admin area and in client area for the whmcs standard management interface
Implemented: Transliteration support for customer signup and domain contacts
Implemented: New language translations for admin and client area
Implemented: Language override support
Changed: Company string from Not Acceptable to Not Applicable

Maintenance Update Build 2 - Release Date: 13/05/2014

Mandatory to set extradetails individually for dotes domains
TLD .berlin special case for bill-c contact. -1 must be passed for register and transfer


Maintenance Update Build 3 - Release Date: 05/06/2014

.AU domain transfer extradetails wrongly set for contacts instead for the transfer itself
Version 3.9.3 (Top)
Release Date: 16/06/2014
Implemented: Privacy Protect purchase changes and related api changes announced by resellerclub
Implemented: Option to set a number of Suggest Domain results
Implemented: Option to limit Suggest Domain to specific tlds
Implemented: Direct access with auto-login to Orderbox DNS Management interface (admin area)
Implemented: Validation for required additional domain fields (domain transfer)
Implemented: Support and requirements for register .UK (no additional domain fields required)
Changed Domain contacts handling: It shows now only the reg-c contact if contact id is the same for the other domain contacts (admin/tech/bill)
Version 3.9.4 (Top)
Release Date: 21/07/2014
Implemented: Pre General Availability Domain register support
Improved: API Debugging
Improved: Validation for additional domain fields (Transfer, Trademark and Pre GA Register)
Updated: Language files served Core Console Addon

Maintenance Update Build 2 - Release Date: 12/08/2014

Code Improvement to avoid PHP Warning messages
Bugfix for .RU 2nd and 3rd level domains. Necessary extradetails for domain contacts were not created
Version 3.9.5 (Top)
Release Date: 22/08/2014
Bugifx: Pricing for suggested domains were wrong when searching for a non LogicBoxes TLD
Bugfix: Purchase of ID Protection has not enabled the service at the registrar
Implemented: Options to enable pro-rata charge for Domain Addons (ID Protection, Dns Management, Email Forwarding)
Implemented: To-do-list entry for purchased Pre GA Domains for better subsequent monitoring
Version 3.9.6 (Top)
Release Date: 08/10/2014
Implemented: Option to ignore built-in Domain Transfer sync
Implemented: Option to disable ID Protection Invoicing
Implemented: Pending Transfer shows now the transfer status instead of "Website doesnt exist"
Implemented: Reg-c whois details opt-out for TLD .eu if Customer is an individual
Implemented: Manual Domainsync Command syncs now the real Domain registration date
Implemented: TLD .london special case for bill-c contact. -1 must be passed for register and transfer
Implemented: Posibility to deactivate ID Protection selling with Transfer Purchase
Version 3.9.7 (Top)
Release Date: 20/11/2014

Maintenance Update
Bugfix: Adding Contact fails for .EU domains since v3.9.6
Bugfix: Premium and Suggestion Domain names not showing results for 3rd level domains
Bugfix: Domain Suggestion shows results for gTLDs if searching domains for non logicboxes TLDs
Version 3.9.8 (Top)
Release Date: 17/12/2014

Maintenance Update
Implemented: Restore Domain Admin area function
Implemented: API Timeout Reporter. Admin got an email if register/transfer/renew fails due to api timeouts
Implemented: TEL Domain details with user login details and tel control panel login
Implemented: .NYC Domains require a new domain contact type only for .NYC domains
Implemented: FREE Email Managementlink in domain details admin area
Updated: additionaldomainfields.php file with the required additional fields for .QUEBEC domains
Updated: Language files served from Core Console Addon v1.2.6
Bugfix: Template File for .XXX domains only loaded for resellerclubrcm module
Version 3.9.9 (Top)
Release Date: 10/02/2015

Maintenance Update
Bugfix: QUEBEC TLD missing additionalfields under certain circumstances
Bugfix: Currency format issue for prices without decimals
Bugfix: EU TLD epp code were not generated automatically when empty at registrar
Bugfix: Register/Transfer issue when using various LogicBoxes registrar for the same Order
Updated: All hardcoded language strings replaced with translation variables
Updated: Language files served from Core Console Addon v1.2.8
Implemented: Modify EPP Code Module Command
Implemented: Reseller Domain Lock and Unlock Module Command
Implemented: Full support for selling new gTLD Premium Domains
Version 3.9.10 (Top)
Release Date: 27/03/2015

Maintenance Update
Bugfix: new gTLD Premium Domains missing compulsory name/value pair data
Bugfix: Client area renewal Order invoices issued with 0.00 under certain circumstances
Updated: additionaldomainfields.php file with the required additional fields for .ATTORNEY, .LAWYER and .JOBS domains
Updated: client area registrar hook improved to avoid unnecessary api calls
Implemented: Resend Transfer Approval module command success message now showing reg-c owner email address
Version 3.10.0 (Top)
Release Date: 13/07/2015

Maintenance Update
Added: Compatibility for WHMCS v6. Valid for WHMCS 5.2.17 - 6.x.x
Bugfix: TLD .CA Company Name exposed in the Contact Reg-c Name field for Canadien Corporation
Bugfix: TLD .US Missing nexus category C31 in additionaldomainfields.php file
Bugfix: ID Protection Addon Pro-rata not correctly working under certain circumstances
Bugfix: new gTLD Premium Domain check not always working correctly under certain circumstances
Updated: additionaldomainfields.php file with new compulsory additional domain fields for .LAWYER and .ATTORNEY TLDs
Updated: TLD .AU and .RU excluded domains for theft protection option
Version 3.10.1 (Top)
Release Date: 09/10/2015

Maintenance Update
Bugfix: VAT Inclusive configuration displays a wrong calculation in Cart for premium domains and pro-rata id protection addon
Bugfix: VAT Inclusive configuration generates invoices with total amount of 0.00 for premium domains and pro-rata id protection addon
Bugfix: Recurring price for new gTLD Premium domains wrong calculated if purchased with the ID Protection Addon
Bugfix: Option to disable ID Protection invoicing does not activate the ID Protection Addon in WHMCS v6
Added: IDN support patch to get IDN domains again working in WHMCS v6
Added: Full support on all shopping cart Orderforms for new gTLD Premium Domains, Afternic Premium Domains and Domain name suggestions
Updated: TLD .AU and .RU mistakenly excluded from domain theft protection option
Updated: API changes for .CN TLDs
Updated: additionaldomainfields.php file with one new compulsory additional domain field for .CN TLDs
Updated: template files premiumdomains.tpl and suggestdomains.tpl for Orderforms changed to fit the original style of each Orderform

Maintenance Update Build 2 - Release Date: 17/10/2015

Added: Support new gTLD Premium Domains, Afternic Premium Domains and Domain name suggestions for domainchecker six template
Updated: premiumdomains.tpl and suggestdomains.tpl for six template


Emergency Update Build 3 - Release Date: 11/12/2015

Updated: Domain Register fails with WHMCS v6.2 due to changes made by WHMCS in the params array
Version 3.10.2 (Top)
Release Date: 26/01/2016

Maintenance Update
Bugfix: .QUEBEC, .ATTORNEY, .LAWYER and .JOBS requires additional domainfields for transfer
Bugfix: new gTLD Premium Domain renew requires additional atributes
Bugfix: Disable selling new gTLD Premium domains shows premium domains as available with normal price in whmcs v6
Bugfix: Disable selling new gTLD Premium domains shows premium domain label "available" in whmcs v5
Bugfix: new gTLD Premium Recurring price was not updated with register
Bugfix: admin area language translation was not working in whmcs v6
Implemented: Bulk update mode for reg-c, admin-c, tech-c and bill-c individual Domain contact details
Version 3.11.0 (Top)
Release Date: 09/03/2016

Maintenance Update
Implemented: .ARCHI, .VET, .SOFTWARE, .REHAB, .NAVY, .MORTGAGE, .MARKET, .GIVES, .ENGINEER, .DEGREE, .ARMY, .AIRFORCE and .DENTIST requires additional domainfields for transfer
Updated: Completely revised and updated additionaldomainfields.php file
Updated: Domain name suggestion api call has been deprecated at RC and replaced with a new domain bot api call
Code improvements and minor bugfixes
Fully tested for whmcs v6.2.x
Version 3.11.1 (Top)
Release Date: 20/04/2016

Maintenance Update
Bugfix: .co and thirdlevel .co tlds supports id protection and was always set to false
Updated: New Domain name suggestion api does not offer limiting search results. Option has been removed
Version 3.11.2 (Top)
Release Date: 14/06/2016

Maintenance Update
Added: Support for third level .BR TLD
Added: New Domain Suggestion search limit
Updated: additionaldomainfields.php for third level .BR TLD
Version 3.11.3 (Top)
Release Date: 29/07/2016

Maintenance Update
Added: Support for register/transfer .MX and .COM.MX
Added: Filter to remove alternative TLD domain suggestion for the looked up and unavailable domain
Added: Filter to remove new gTLD premium domains from the alternative TLD domain suggestion
Added: New option to enable availability lookup for Domain Suggestions
Updated: additionaldomainfields.php for third level .BR TLD, removed Legal type field and added all missing .BR third level TLDs
Updated: Removed create admin-c and bill-c for .EU domain contacts
Bugfix: Address 2 field from Customer details not sent to API for domain contacts and customer signup
Version 3.12.0 (Top)
Release Date: 20/10/2016

Maintenance Update
Added: Support for WHMCS 7 and PHP 7
Added: Option to disable Dns Management Addon Invoicing
Added: Option to disable Email Forwarding Addon Invoicing
Bugfix: Minor bugfixes
Version 3.12.1 (Top)
Release Date: 13/12/2016

Maintenance Update
Added: Full Support for new IRT Policy on single and bulk domain contacts
Added: Resend IRTP Email Module Command
Updated: Language files in Core Addon v1.4.1
Bugfix: RAA Resend failure does not show error message
Version 3.12.2 (Top)
Release Date: 09/02/2017

Maintenance Update
Added: Support for org.mx
Added: Support for admin login with another language than the default configured
Added: Option to disable ID protection automatically when registrar unlock is requested from the client or admin area
Added: Additionalfields for .LTDA, .SRL and .BIO
Updated: Auto fallback from api to standard whois on lookup for unsupported TLDs
Updated: Module command buttons logic for Suspend/Unsuspend and Lock/Unlock Domain
Updated: Language files in Core Addon v1.4.4
Updated: Template files suggestdomains.tpl and premiumdomains.tpl all form actions changed from smarty variable to file cart.php
Bugfix: Afternic Premium domain was added to the shopping cart without customer request under certain circumstances
Bugfix: PDO Exception on Pre GA Domains and Trademark acceptance