Changelog for FREE RC & LB Tools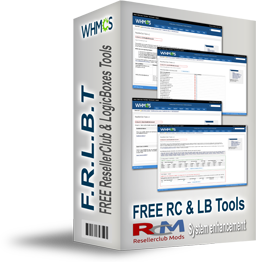 Release Date
Latest Version
28.07.2014
2.8.1
Version 2.0.0 (Top)
Release Date: 05/11/2011
4 new tools added
Tool for importing ResellerClub users into WHMCS
Tool for exporting WHMCS users into ResellerClub
Funds Balance on admin home page
Currently available promos review
Version 2.0.1 (Top)
Release Date: 11/11/2011
Bugfix - Funds balance was not shown if selling currency is distinct to accounting currency
Version 2.0.2 (Top)
Release Date: 18/11/2011
Issue with newer versions of simplexml fixed.
Version 2.0.3 (Top)
Release Date: 03/12/2011
Bugfix when customer language settings in WHMCS is set to "default".
Version 2.0.4 (Top)
Release Date: 21/12/2011
Maintenance Release and code update for new coming tools
Bugfix for ResellerClub Passwords with special chars
Bugfix Importing Users in WHMCS with Localisation iso-8859-1 correctly converted
Added complete transliteration when exporting users to Reseller Account
Added search function for import and export tool
Version 2.1.0 (Top)
Release Date: 12/01/2012
Added Domain TLD and Domain Pricing Import Tool
Added Domain Import Tool
Version 2.1.1 (Top)
Release Date: 13/01/2012
Multiplicator for years was disabled accidentally in first release
Typo for 3rd level .CO domain prices
Version 2.1.2 (Top)
Release Date: 13/01/2012
Added currency selector, necessary for those who are working with more than 1 currency
Version 2.1.3 (Top)
Release Date: 15/01/2012
Added support for .RU, .COM.RU, .NET.RU and ORG.RU
Wrong message was shown in WHMCS v4 when pricing update was successfull
Version 2.1.4 (Top)
Release Date: 18/01/2012
Added multiplicator dropdown for currencies calculated in 10's, 100's and 1000's
Version 2.1.6 (Top)
Release Date: 02/02/2012
Bugfix "Domain Import" tool on PHP 5.3.x installations
Version 2.1.7 (Top)
Release Date: 14/02/2012
Added Multi Account Management
Added Version Update checker
Bugfix on TLD Pricing and Domain import for TLDs with special register/renewal periods
Version 2.1.8 (Top)
Release Date: 22/02/2012
Added support for .COOP price & domain import
Local License key stored in Database for improving performance
resellerclubmods_config.php file deprecated for FREE Tools v2.1.8 upwards
Version 2.1.9 (Top)
Release Date: 05/03/2012
Added checkbox to check all customers to import
Reseller Customer Import Tool improved and pagination set to 100 per page
Bugfix on specific Customer Import
Version 2.2.0 (Top)
Release Date: 07/04/2012
Domain TLD & Pricing Import Tool improved
Cost prices added for Register, Renew, Transfer and Restore
Import/Update feature for Domain Selling Pricings. Increase/Decrease Selling prices instantly
Domain Transfer Check tool added
Domain Transfer automated Check with cronjob added
Move Domain / Services tool added.
Version 2.2.1 (Top)
Release Date: 16/04/2012
New Home interface
Better license handling with delete localkey feature
Improved Transfer Check tool
Deprecated variable $whmcsroot in configuration.php
Version 2.2.2 (Top)
Release Date: 05/05/2012
New Multi LogicBoxes Registrar Funds Balance Widget for WHMCS v5
Code improvements
Version 2.3.1 (Top)
Release Date: 30/06/2012
Interface lifting on all tools
More useful Informations on the main tool page
Currency symbol or code for the funds widget configurable from Addon Setup
Interface BlockUI javascript deprecated due compatibility issues with some browsers
Enable/Disable Signup, Delete and Modify Customer hooks from the addon setup
Signup, Delete and Modify Customer hooks no more limited to the 1# reseller account
Modify Customer hook now changes the customer email address if changed in whmcs
All hook actions are now logged into the WHMCS Activity System log
Import/Update TLD register and renewal pricings for .uk domains fixed (1-10 years)
Improved Domain Import Tool with a new search domain per user function
Domain promo management added. 1-click apply promo price to the domain selling price
Improved Transfer Check Cron. No output visible if access from browser
Transfer Check Cron now reseller account based
Transfer Check Cron admin mail now correctly formatted in html
Transfer Check Cron enable/disable from the Addon setup
Transfer Check Cron email summary send to Admin (only WHMCS v5)
Special Currency Setup for Resellers who have a different default selling currency in WHMCS than in the reseller account
Version 2.3.2 (Top)
Release Date: 13/07/2012
Threshold Funds managment with mail alert added
Funds balance widget with Funds threshold
Domain Promo Management improved with Auto update function
Version 2.3.3 (Top)
Release Date: 24/08/2012
Support added for .PRO Domains
German language officially implemented
Domain transfer check tool and cronscript updates now expiry and next due date
Version 2.4.1 (Top)
Release Date: 13/09/2012
Import Bulk Domain tool added
Import Tool for Single Linux, Windows, Email and Sitebuilder hosting added
Import Tool for Multi Linux and Windows hosting added
Import Tool for Reseller Linux and Windows hosting added
Import Tool for Thawte SSL Certificates added
Small Bugfixes on threshold hook, TLD / Pricing import tool and transfer check cronscript
Version 2.4.2 for WHMCS v4 and Version 2.5.1 for WHMCS v5
Release Date: 13/12/2012
Client Area "Domain Suggestion - Domainsbot" Tool
Client Area "Move Domain to another Customer" Tool
Improved Domain Promo Management
Improved Domain Transfer Check and Cron
Bugfix on Fundsbalance widget for multi accounts
Bugfix on product import tools if there are more than 1 product for the same domain name
Bugfix on Fundsthresold hook
Overall code improvements
End of life for WHMCS v4 FREE Tools
Version 2.6.1 (Top)
Release Date: 15/01/2013
Hosting Import Tools: Support for Geolocated SDH, MDH and RH added
Import Tool for VPS Server plans added
Import TLDs & Prices: Support added for nl and pw
Further Improvements for Domain Promo Management
Activitylog implemented for promo update hook
Small Bugfixes on Promoupdate Admin email and Customer Export Tool
Version 2.6.2 (Top)
Release Date: 22/01/2013
Promo Management Tool Bugfix: Selling price, Promo price and Currency conversion
were applied wrong when currency conversion has been activated
Update Promo price with selling price using now the whmcs default selling price and not
the selling price from the reseller account
Version 2.7.1 (Top)
Release Date: 01/04/2013
READY FOR API KEY

Promo Daily Update Mail: Default Selling price and Promo Selling Price added.
Promo Management Tool: Registrar info added to the Active Promo table
Domain Transfer Check: Cron check tool and script checks now only the registrar for which the TLD has been setup.
Customer Import Tool: Number of Users to import is now adjustable from the Addon setup. Default = 100 per import batch
Import TLDs & Prices Tool: New option available to set selling prices in WHMCS using cost price + Dower value.
New TLD support added for .com.de, .cn and 3rd level .cn
Fundthreshold Hook [FIXED]: The values ??for total, blocked and available funds were set to 0.00 in the Funds Alert E-mail when a Product has been purchased or renewed.
All Hosting and Certificate Import Tools: [FIXED]: The module name for all provisioning modules upwards v3.6.x have been changed due to Naming Conversion Change by WHMCS
Client Area tools "Domainbot and Move domain": [FIXED] Language translation BUG in WHMCS has been fixed in v5.2.3 for Addon Module client area output
Version 2.7.2 (Top)
Release Date: 15/05/2013
Added Domain Price list widget with Highlight Promo Price feature
Google API currency conversion integrated for Domain Pricing Import Tool option "using my cost price and an incremental value".
Option for disabling Telescope Pricing implemented in Domain Pricing Import Tool
Brazilian portuguese language officially implemented
Version 2.7.3 (Top)
Release Date: 10/07/2013
API response format changed from simplexml to JSON to improve performance and speed
Support added for the new LogicBoxes Compatible Domain Registrar Module (Beta to be launched soon)
Improved Domain Import and Bulk Domain Import Tool:

Function added to fetch all customer ID's with one click to start Bulk Import immediately
IDN Support implemented for both tools

Improved Import TLDs & Prices Tool:

Function added to update TLD settings for configured TLDs
Function added to disable Google API currency conversion

Improved Export User tool: Bulk mode implemented
Improved Move Domain / Services Tool: Better handling for Success and Error Messages
New Tools - Manage TLDs & Domains:

Tool to change the Registrar Module for TLDs
Tool to change the Registrar Module for Domains
Tool for Activate/Deactivate Management Tools for Domains (dnsmanagement, emailforwarding and idprotection)

New Tool - Reseller Domain Bulk move: Move domains from one Reseller Account to another Reseller Account
Version 2.7.4 (Top)
Release Date: 19/07/2013
Improved all Product Import Tools: IDN Support implemented
Improved Client Area Domain Move Tool: IDN Support implemented
Improved Reseller Domain Bulk move: Search and Move Domains for a specific Customer
Farsi language officially implemented
Import TLDs & Prices: Support added for in.net
Version 2.7.5 (Top)
Release Date: 29/08/2013
API Changes implemented for all Move Domain/Products Tools
Improved Manage TLDs & Domains Tools and added Domain filter based on the Registrar Module
New TLDs & Domains Tool implemented: Update Domain Recurring Pricing
Version 2.7.6 (Top)
Release Date: 19/12/2013
Bugfix: Promo Update Tool not updated other currencies
Bugfix: Default currency not set when importing Customers from Reseller account
Bugfix: Domain Price List widget: Not correctly formated for currencies in 1000's (COP, etc.)
Improved: Import TLDs & Prices now updates other currencies automatically
Improved: Manage TLDs & Domains Subtool Activate/Deactivate Domain Addons with a new option: "leave as is"
Improved: Auto Customer Signup & Modify tools use now customized transliteration hooks if present
Improved: Reseller Account now configurable for any other LogicBoxes Registrar present in WHMCS (resellerid, etc. etc.)
Improved: Transfer check tool added Activity log entries
Implemented: Admin user for local API now configurable
Implemented: VPS Plan Import tool support for the new plesk control panel addons
Implemented: Enterprise Email Hosting Plan Import Tool
Implemented: Support added for .CO.DE and .LA Tlds
Implemented: Configurable Domain Price Sync Cron for each Reseller account.
New language translations added
Version 2.7.7 (Top)
Release Date: 29/01/2014
Bugfix: Automation Tool URL's for GET and LYNX missed the whmcsroot folder
Improved: Transfer check cron does now send admin mail only when there are domains pending transfer
Improved: Domain Price sync cron does now sync only the Domains Default Base Slab. Configurable from the Addon to sync all Slabs
Improved: Google Currency API changes updated
Improved: Auto Promo Update now configurable to terminate promos with x days before the real promo end date
Improved: Manage Domain Promos shows now a button "Delete & Update" if a promo has been terminated by the registrar prematurely
Improved: Import TLDs & Prices Tool:

Multi Domain Price Management for Default Base Slab and Client Group based Slabs
Currency convertion for cost prices improved when using Google Currency API
Label to show which Price Slab is active and if a TLD has an active promo running

New language translations added
Ready and tested for WHMCS v5.3
Version 2.7.8 (Top)
Release Date: 21/02/2014
Improved: Import TLDs & Prices Tool now maintenance free. Setup and Manage all TLDs instantly as soon as set to active in reseller account
Improved: Reseller Account Setup handling. Setup for up to four accounts and enable/disable accounts with one click.
Version 2.7.9 (Top)
Release Date: 02/04/2014
End of life for php 5.2. Required php 5.3 or 5.4 with Ioncube Loaders v4.4.1 or greater
Bugfix: 4th account was not displayed in the Funds Balance Home Widget
Bugfix: 4th account was not displayed in the "change to" account dropdown menu
Bugfix: Duplicated Promo update mail with multiple reseller account setup
Bugfix: Reseller Domain cost price conversion only working with Google Currency Conversion option enabled
Bugfix: Bulk Update Recurring price Tool updates the prices for 3rd level domains when starting with the same name (eg .com .com.cn)
Updated: All Tools - IDN over TLD Support for new gTLDs
Updated: All Tools - Interface/layout lifting
Updated: Domain Promo Management - Promo prices are now applied for all years, eg. 2 years = 1 year promo price + 1 year normal price
Updated: Support for Import Single and Multi Domain HK Hosting plans
Improved: Import TLDs & Prices - Bulk TLD setup and Bulk Import/Update Selling prices
Improved: Addon Configuration with direct access links for accounts and sections
Implemented: "Change to" Account dropdown now available with direct access on every tools page
Implemented: Transparent Override Default Name Server option per Registrar Module/Account
Implemented: Fully featured RAA Domain Management Interface with daily cron report
Postponed: New client area tool postponed for v2.8.0
New language translations added

Maintenance Update Build 2 - Release Date: 10/04/2014

Currency Symbol in Pricelist Widget not correctly converted when using html entities
IDN Support was missing in Domain Import tool
Auto update product prices now checks first if enabled or disabled in whmcs automation settings (Currency Auto Update Settings)


Maintenance Update Build 3 - Release Date: 19/04/2014

Changed Customer signup/modify company name field from "Not Acceptable" to "Not Applicable"
RAA Domainmanagement does not show domains with failed verification (only pending verification)
RAA Domain Daily Report does not show domains with failed verification (only pending verification)
RAA Domain Daily Report with wrong date in the header title
Import TLDs & Prices Tool: The default selling currency from reseller account was used instead the whmcs default currency for increase/decrease and costprice/incremental values for accounts configured with "account currency conversion"


Maintenance Update Build 4 - Release Date: 26/04/2014

Domain pricelist widget: Normal selling prices for active promos were not calculated correctly in other currencies
Version 2.8.0 (Top)
Release Date: 30/06/2014
Bugfix: Domain suggestion results with wrong associated checkbox for the suggested domains
Bugfix: Import tool for single domain and webservice plans; first and recurring price were empty
Bugfix: Import tool for VPS plans; import configurable option addons have not been set to active in product details
Bugfix: Import tool for all products; first and recurring prices were imported only using default currency
Bugfix: Import tool for all products; configurable option notes have been duplicated when importing multiple products
Improved: Import tool for VPS with support for server os (centos,ubuntu)
Improved: Support added to import geolocated TR hosting plans for Single, Multi and Bulk packages
Improved: Import TLDs & Prices various small bugfixes, onsale promo infotag for register/transfer/renew
Improved: Domain price sync cron various small bugfixes and support added for manual promos
Improved: Manage Domain Promos with navigation links for promo tlds and support to setup manual promos for register/transfer/renew
Implemented: Import tool for dedicated hosting servers (DHS Plans)
Implemented: Option to use whmcs customer password with customer signup in reseller account
Implemented: Option to sync whmcs customer password in reseller customer account
Implemented: Option flag "skip" for whmcs daily cron controlled hook tools (Automation Tools)
Implemented: Tool for Auto and Manual setup of whoisservers.php file for accurate domain check availability through API and extended whoislookup results
New language translations added
Version 2.8.1 (Top)
Release Date: 28/07/2014
End of life support for WHMCS 5.0.x - 5.2.16. Min version: 5.2.17 or later
Bugfix: Activating Registrar controlled Promo has not updated other currencies with the promo price
Improved: All Product Import tools ready for importing all new upcoming geolocations
Improved: Import TLDs & Prices tool shows now a label to differentiate better Pre GA TLDs
Updated: whoislookup.php for all new GA and Pre GA TLDs
Implemented: Import tool for Sitelock Plans
New language translations added