ResellerClub Dedicated Hosting Server Module for WHMCS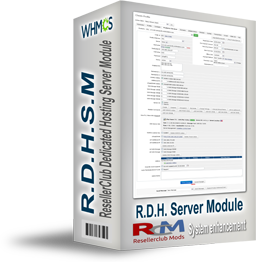 Now introducing ResellerClub's newest Product Portfolio member, Linux Dedicated Hosting Servers. Available for all Resellers since March 19: http://cdn.resellerclub.com/mailers/rc/glo-dedicated-servers-now-live-19-03-14.html
You can now start selling and manage dedicated Servers with our fully featured provisioning module RDHSM.
Without limitations and fully compatible with all product/services and billing features from WHMCS including configurable options to sell additional IP's, cPanel, WHMCS and SAN Storage Addons.
The Module for WHMCS takes care of every feature available for the new Resellerclub Dedicated Hosting Server Plans, seamlessly integrated with your WHMCS set up.
Buy now Pricing FAQ's Documentation
Key Features
Support for Managed Dedicated Servers
Automated language handling with fallback to english if selected language does not exist and with override language system
Support for IDN Domains
Admin Area and Module Settings with multi language translations. Valid for all other languages.
Login links for admin to access server management panel and cPanel
Full Billing control through WHMCS. You can setup Monthly, Quarterly, Semi-Annually and Annually
Product setup: Standard routines from WHMCS
Product setup: You can use our build in Dahsboard or customize your own using smarty variables!
Admin Area: Create, Manual Renew, Suspend, Unsuspend, Terminate, Add and Delete Additional IP's, cPanel, WHMCS and SAN Storage Addons
Client Area: Direct login button for the Server Panel and cPanel
Renewal support when invoice is paid, no manual renew required
Seamless integration into your Client Area -> My Products.
Included standard Email Welcome template when order is paid and active.
Language files available for English and Spanish. You can add your own languages by simply translating the main English file
Dynamically generated Management Dashboard with WHMCS design selector for classic, portal, default, five and six theme
Dashboard customizable 100%
Dedicated Hosting Server Provisioning and Management related Screenshots