ResellerClub Wordpress Hosting Provisioning Module for WHMCS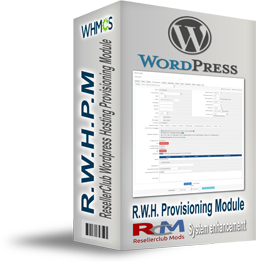 Now introducing the new Provisioning Module for the ResellerClub's newest Product Portfolio member, Wordpress Hosting: https://www.resellerclub.com/wordpress-hosting?location=global
Without limitations and fully compatible with all product/services and billing features from WHMCS including provisioning for additional CPU Cores, RAM Upgrade and 1 Additional IP!
The Module for WHMCS takes care of every feature available for Resellerclub's Wordpress Hosting Plans, seamlessly integrated with your WHMCS. You can now sell ResellerClub & LogicBoxes Wordpress Hosting Plans and your customers can now manage the hosting package easily with WHMCS.
Your customers will remain on your site and can directly login to the Wordpress Hosting Manager from your site's client area Dashboard itself. This module takes care of every billing, provisioning and management aspect of ResellerClub's Worspress Hosting Services.
Key Features
Automated language handling with fallback to english if selected language does not exist and with override language system
Language files available for English and Spanish, Admin and Client Area. You can add your own languages by simply translating the main English file
Support for IDN Domains
Multi LogicBoxes Support. You can use multiple reseller accounts (Reselleclub, NetEarthOne, etc.)
Support for provisioning CPU, RAM and IP Addons
Full Billing control through WHMCS. You can setup Quarterly, Semi-Annually, Annually, Biennially and Triennially
Product setup: Standard routines from WHMCS
Admin Area: Create, Manual Renew, Suspend, Unsuspend, Terminate, Add/Delete CPU, RAM and IP Addons
Admin Area: Direct login links for Wordpress Hosting Manager
Admin Area: Improved Management Interface with howto's and extended hosting plan details
Client Area: Direct login button for Wordpress Hosting Manager
Client Area: All necessary details directly available from the dashboard
Client Area: Upgrade CPU, RAM and IP Addons with auto billing and setup.
Renewal support when invoice is paid, no manual renew required
Included standard Email Welcome template when hosting order is paid and active.
Dynamically generated Management Dashboard with WHMCS design selector for six and five theme
Dashboard fully customizable
Wordpress Hosting Provisioning and Management related Screenshots