LogicBoxes Compatible Domain Registrar Module for WHMCS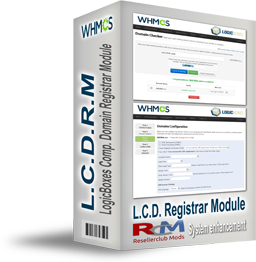 Now officially available for all LogicBoxes Resellers! Our fully featured Domain Registrar Module with support for all gTLD's and ccTLD's offered by any LogicBoxes Registrar.
Fully compliant with LogicBoxes Registrar requirements for Domain Register and Transfer, including 100% IDN Support, Domain Suggestion and Premium Domain selling, seamlessly integrated into WHMCS. You can now register and transfer without failure any domain which needs additional domain informations. These fields are exposed in the shopping cart for domain register and domain transfer who requires these informations. A correctly formatted additionaldomainfields.php file with multi language support is included with the Module.
Fully compatible with all standard domain management interfaces from WHMCS such as dns, email forwarding, register nameserver, domain contact and fully compatible with all Resellerclub Mods Management Interfaces RAMDI, RAMEI, REMDI and the FREE ResellerClub Tools Box.
The L.C.D.Registrar Module can be used for any LogicBoxes Registrar and comes prepared with the 4 standard LogicBoxes Registrars ResellerClub, NetEarthOne, Resell.biz (Stargate) and ResellerCamp.
Key Features
Enable/Disable GDPR Domain Contact Protection from Admin and Client Area
Resend Email for RAA / IRTP Verification and GDPR Authorization from Admin and Client Area
Automated domain restore in redemption period
Full support for selling new gTLD premium domains
Pro-rata charge for domain addons
Domain Register Pre GA Support
Suggest Domains in domainchecker and shopping cart
Selling Premium Domains with Premium Domain lookup in domainchecker and shopping cart
Automated language handling with fallback to english if selected language does not exist
Language Override ready
Multilingual Support with english and spanish translations. You can add your own languages by simply translating the main English file
Extended Domain Status Information Section in Admin Area
Domain Registrar Modules for ResellerClub, NetEarthOne, Resell.biz and Resellercamp
100% Support for ALL gTLD's and ccTLD's offered by LogicBoxes Registrars
100% IDN Support
additionaldomainfields.php included with correct format for LogicBoxes Registrars
Support for ccTLD Domain Transfer with additional domain fields
Support for reg-c, admin-c, tech-c and bill-c Contact Management with IDN Support, admin and client area
Support for Dns Management with IDN Support in client area
Support for Register Nameservers with IDN Support in client area
Support for Email forwarding with IDN Support in client area
Support for Domainsync and Transfersync
Support for Module log
Module Commands: Register, Transfer, Renew, Modify Contact Details, Get EPP Code, Request Delete, Release Domain, Cancel Transfer, Resend Transfer Approval Mail, Domain Sync, Suspend, Unsuspend, RAA Resend Email, Reseller Lock/Unlock and Restore Domain
Compatible with FREE Tools, RAMDI, RAMEI and REMDI.
Registrar Module related Screenshots