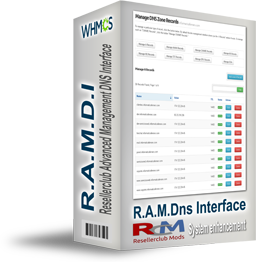 Manage, Create and Delete DNSSEC Records!
ResellerClub and all other LogicBoxes Registrars provides with every domain, hosting package and other ancillary services a free and powerful DNS and Domain forwarding service. Your customers can manage this service through their proprietary OrderBox Customer/Reseller Control Panel.
Unfortunately the orderbox dns and domain forwarding interface cannot be implemented into your whmcs system to fit your corporate website design and you need to provide to your customers an external login link to the dns and domain forwarding management interface, outside your WHMCS control panel.
The WHMCS control panel only offers a standard DNS management interface which allows only basic DNS record management with a build-in domain forwarding option.
We provide the solution for those resellers who are selling domains and/or webservice packages through ResellerClub & LogicBoxes with WHMCS Control Panel.
Our Resellerclub Advanced Management DNS Interface for WHMCS takes 100% care about all the features available for dns and domain forwarding service and with a clean integration within your WHMCS system, based on the well known smarty template engine used by WHMCS.
Look for yourself, how you can gain and present your customers with a more professional and fully featured looking DNS and Domain Forwarding Management Interface.
DNS Manage Key Features
Automated language handling with fallback to english if selected language does not exist and with override language system
Support for IDN Domains
1-click buttons for create Google Apps DNS A, MX, CNAME, SRV and TXT(spf) records
Activate/Deactivate Domain Forwarding Check for Domains who have a hosting plan associated
Multi LogicBoxes Support for ResellerClub, Resell.biz, NetEarthOne, Resellercamp, etc.
Activate/Deactivate Name Server check and Auto Change function to the required LogicBoxes partially / fully branded DNS servers
Domain forwarding interface checks if hosting exist to avoid service activation and "A record" setup
Automatically offers the WHMCS standard DNS Management Interface if the domain is not registered with a LogicBoxes Registrar
Manage, Create, Modify and Delete A, AAAA, CNAME, MX, NS, TXT and SRV Records
SOA Record editable
Pagination and sorting of all record types fully integrated
Template and Style based on WHMCS six and five
Language files available for English and Spanish. You can add your own languages by simply translating the main English file
Shows if the domain is configured with the required DNS Servers and offers easy solutions
1-click DNS Nameserver Auto Change to the required DNS servers
One-click button "Overview all Records"
Manage, Create and Delete DNSSEC Records
DNS Management and Domain Forwarding Screenshots