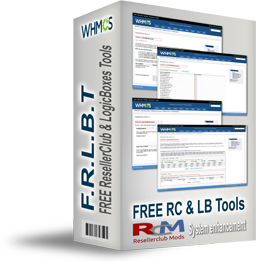 A new Tool, Bugfixes and now Cloud/Dualstack/HA ready!
Working seamlessly with any LogicBoxes reseller accounts (resellerclub, NetEarthOne, resell.biz, etc. etc.), products and services through your WHMCS system requires additional tools. It is both annoying and not completely professional to not make changes reflect in reseller accounts when the changes have been made in your WHMCS system.
We have been working on both systems since many years and have developed certain utilities which we believe will be very handy for your day to day Domain reseller business.
These are absolute essentials for your business. Hence we have decided to offer it to you with a free license and without charging any initial fee. Simply sign up fulfilling the requirements as per our signup policy and order your free license which will grant you using the software for free.
These tools will be useful for you as it will save time and make your work easier as a ResellerClub / LogicBoxes reseller using WHMCS. We hope to automate things as much as possible for your business.
Please vote our FREE Addon in the WHMCS Marketplace and support our FREE work with your review / feedback!
The FREE Tool Box includes up to date 47 useful utilities and growing up!
Multi Account Switcher - Manage 4 Reseller Accounts at once with the Reseller account switcher!
Import Customers - Import your Reseller accunt Customers into WHMCS, including customer funds available if needed.
Export Customers - Export WHMCS user into your Reseller account (one-click direct register).
Import & Setup Domain TLD's and Prices - Setup your TLD's and Import/Update your Domain selling Prices and Redemption Fees in WHMCS
Domain Import - Import 100's of domains within seconds for all your customers or per each Customer
Manage TLD's & Domains - Change the Registrar Module for TLD, Domains, Enable / disable Domain Addons, sort TLDs and more
OrderBox Integration - Redirect your autenticated OrderBox customers to your WHMCS pages
Domain Promo Price List Widget - WHMCS Domainchecker Price List with highlighted active Domain Promo Prices
Whoisservers.php and whois.json setup tool - Accurate Domain availability check using API and full whois lookup results
Promo Domain Management - Manage Domain Promos directly in WHMCS. Fully automated with Auto Promo Update and Activate with daily cron
Manual Domain Promo - Activate your own Domain Promos for Register, Transfer and Renewals
RAA Domain Management - Manage RAA pending Domains at a glance with this new and easy to use interface
RAA Domain Cron - Daily cron pending verification Report via Email. Stay informed about all RAA pending domains
Override Default Nameservers - Transparently override the Default Nameservers in WHMCS per registrar module/account
TLD Price Sync Cron - Maintain your Domain Selling Prices in your Reseller Account and sync your selling prices in WHMCS
Update Domain Recurring Pricing - Update the recurring price for all domains based on your update criterias with an easy to use GUI
AutoUpdate Domain Recurring Prices - Automatically update all your recurring prices each day with the daily cron
Reseller Domain Bulk move - Move some or all Domains from your Reseller Account to another Reseller Account
Threshold Funds Management - Your Funds Threshold at a glance in the Home Admin! Threshold management with mail alert
Pro active Transfer Handling - Inform your customers what they need to do with stalled and failed domain transfers
Domain Transfer Check - Check manually pending Domain Transfers.
Domain Transfer Cron - Enable Pending Domain Transfers automatically and send a Confirmation mail to your Customer.
Auto Customer Signup - Add Customers automatically to your reseller account when register or you add them manually.
Auto Customer Modify - Applies the changes from the WHMCS customer profile to the customer profile in your reseller account.
Auto Customer Delete - Deletes the customer account from your reseller account when deleting from WHMCS.
Move Domain / Services - Move a Domain and associated Services in WHMCS and in your Reseller Account automatically!
Client Area Domainsbot - Suggest Domain Name Tool to offer Domain Name Suggestion in WHMCS
Client Area Move Domain - Allow / Disallow Customers to move domains to other Customers in WHMCS and reseller account
WHMCS Multi Registrar Funds Balance Admin Area Home Widget!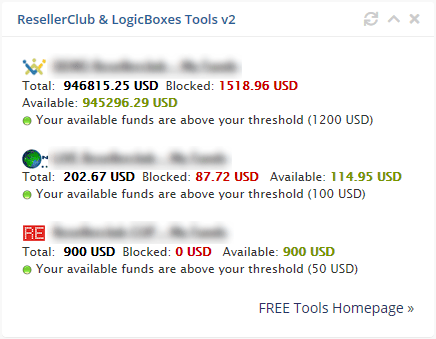 FREE ResellerClub & LogicBoxes Tools v2 screenshots